I met Caroline about 10 months prior to her wedding day while I was stopping by Creative Invites & Events in the Reading Bridal District of Cincinnati. She was meeting them to create her stationery and when Laurie asked her what else she needed, she said that she needed help with the design of the wedding. Instantly, Laurie said, "Karen's a wedding planner. She can design your wedding!" Caroline and I met up about a week later and immediately began working together.
She was so open to my ideas and was a ton of fun to work with creating a wedding that had the colors Brandon loved: blue and white (University of Kentucky fan, naturally). Somehow we worked in pops of orange to really create some dimension to the decor and we must say, Say I Do Love Weddings and Events killed it! Working together with Olde Guest House to doll up the ceremony space, the flowers and installations looked amazing.
Throughout our time together, it was a joy learning about Caroline + Brandon and their love for outdoors and adventure. They were so excited to come together and create their family including Brandon's little girl, Finley. ADORABLE!
On the day it was a blast! Although the weather in Cincinnati didn't seem to want to hold up, we were determined for Caroline + Brandon to have their outdoor wedding at Cooper Creek Event Center. With a 250 person guest list, it proved to be a challenge as it did start to sprinkle right when we were lining up to begin the ceremony. As soon as everyone jumped up to take cover, it was time to turn them back around and tough it out! The sun was back out for only a few minutes and we were going to go for it! In the end, the rain held off just enough and we got to see these two sweethearts tie the knot the way they wanted!
The bridal party was a ton of fun and we knew we were in for a great night! Everything looked beautiful and we had Emad Batayeh performing Arabic music. The energy in the room was on fire when we got the reception started and everyone had an incredible time! From sweet first dances, father daughter dances, yummy cake cutting to a fabulous dinner, it was a wonderful event to be a part of.
There were so many pretty details in the reception from the submerged blue floral centerpieces, to the wooden table numbers to the blue uplighting. The bouquets were FABULOUSLY large and popped perfectly against the beautiful gowns the girls wore.
We absolutely enjoyed the details that showed their personalities such as the cake topper which had a bride and groom with fishing poles. Caroline chose wooden bottle openers as favors which doubled as escort cards. We wanted to display those prominently so we reached out to Collective Charm who custom built this wall so we could easily hang each one up for all guests to find their seats. Bethany at eden + vine created personalized signs for the signature cocktails and hashtags.
We were so thankful to have met Caroline, Brandon and their families. The entire planning process and wedding weekend were such a joy and we are the lucky ones to have been there for it all. We want to send our biggest hugs and best wishes to you both! Thank you for inviting us into your lives! We hope it was as special as your love is!! Much love and cheers!
-KMC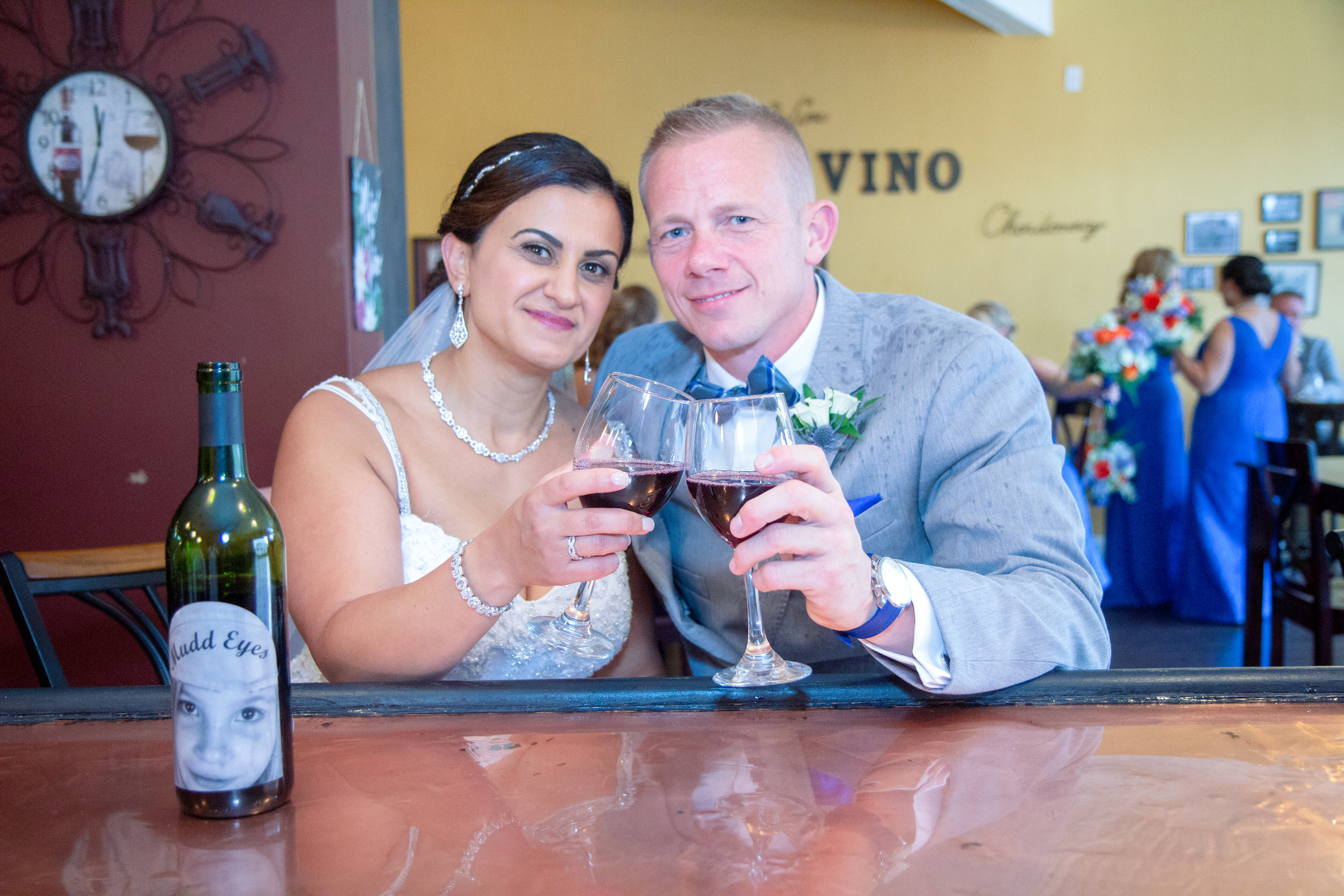 VENDOR LOVE
Venue: Cooper Creek Event Center | Photography & Videography: Eivan's | Dress: Bridal & Formal | Stationery: Creative Invites & Events | Flowers: Say I Do Love Weddings & Events | Ceremony Arch & Doors: Olde Guest House | Favor Display/Wall: Collective Charm Vintage Rentals | Lighting & Ceiling Swag: Party Pleasers | Reception Entertainment: Emad Batayeh | Catering: Vonderhaar's Catering | Cake & Dessert Bar: Tres Belle Cakes | Custom Signage: eden + vine | Hair & Makeup: Eye Do Hair and Makeup | Transportation: Cincinnati Motor Toys