Where do I even begin when writing about these two complete sweethearts? When I did my initial meeting with these two, I had sent over our basic questionnaire asking about their vision and what they had planned for their day. The biggest thing that will stick with me is how Nick told me that all he wanted was for Lauryn to have a beautiful day and be stress free. He just wanted her to enjoy and be happy! *swoon*
This pair of teachers certainly have a one-of-a-kind love and it was easy to see throughout the whole day. There was so much raw emotion even without saying anything to each other. The way Nick looked at Lauryn as she came down the aisle, the way they smiled at one another during the ceremony, danced together and laughed. It was an absolutely magical day to witness.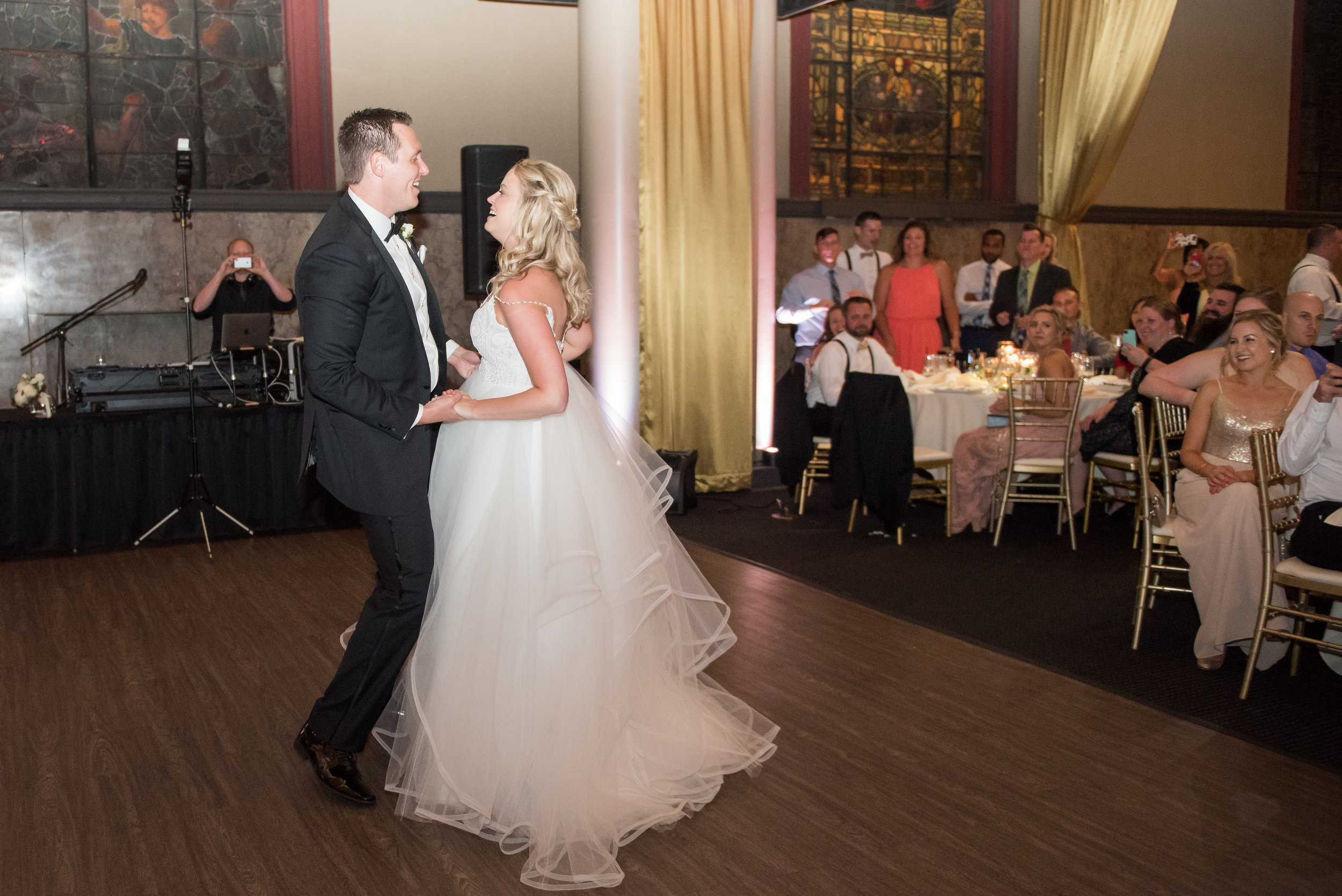 It was a gorgeous wedding at St. Aloysius Chapel. Lauryn + Nick shared this day with a fabulously large bridal party, friends and family and they were all a ton of fun! Everything they chose to complement their day was on point from the mismatched golds & blushes to the white florals to the tuxedos on the men. Lauryn's dress was absolutely phenomenal and she looked stunning! I would have teared up too if I were Nick. 😉 Oh wait, I did. Haha.
The Bell Event Centre in downtown Cincinnati was the perfect location for a wedding reception! Lauryn + Nick adorned their tables with white florals, candles and hints of gold. The cake was five tiers of sweet goodness from Bonbonerie and they had personalized cookies as well.
Among the tears of joy during some of the sweetest speeches we've ever heard as well as the laughter, Lauryn + Nick's happiness beamed. They shared their first dance to Beyonce's "Love on Top" and I've never seen a couple look at each other the way they do. What a beautiful night!
Lauryn + Nick, thank you for letting be a part of your wedding day. It was a pleasure working with you and getting to know you. You absolutely have a beautiful family and we are thankful we could be there with you to celebrate. Your love is beautiful and we wish you all the best! Much love.
-KMC
VENDOR LOVE
Photographer: Red Queen Photography
Reception: The Bell Event Centre
Cake: Bonbonerie
Flowers: Carly Messmer Floral Design
Entertainment: CSC Special Events
Hair: Zephyr Blowout & Salon
Makeup: Nina Ashbar
Party Bus: A Savannah Nite